Career Opportunities
Looking for a position in a dependable industry with opportunities for career advancement? Advanced IPM has been providing Northern California and Nevada communities with quality pest control solutions since 1981. Our "Service before Self" mentality starts and ends with every member of our dedicated team.
Whether you are tenured in the pest control industry or know little to nothing about it, we are committed to hiring the right individuals to join our outstanding team, regardless of prior experience. We strongly believe our customers deserve the best and provide in-depth, paid training for every position in our company. Advanced IPM is proud to support veterans by actively seeking and hiring vets looking for a stable career. Below are just a few of the benefits we offer our valued employees.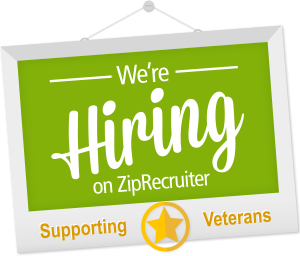 Health

Medical, Dental, and Vision Plans


Financial Security

Competitive base compensation with incentive programs for field and sales positions
401(k) Savings Plan
Life Insurance


Work-Life Balance

Year-round, full-time employment
Paid training for all positions
Opportunities for advancement, programs for recognition
Coworkers with decades of industry experience
Paid Time Off
If you are interested in a career with Advanced IPM, fill out an online application below. We look forward to hearing from you!
Start your journey to join our team today! Apply Online Here

Pest Technicians
When we say "Service before Self", it starts with our growing team of service technicians. As the ambassadors of our brand, these professionals are eager to learn new ways to exceed the expectations of their dedicated clients. Opportunities are readily available for technicians willing to go the extra mile in coordination with our core values. Applicants should be courteous, resourceful, and possess strong customer connection abilities.
Sales Representatives
The Advanced IPM sales team is made up of qualified, driven, and organized sales professionals. Built on a foundation of service, they use a multitude of resources provided to offer the best solution to every prospect they encounter. Relying on a larger network of dedicated team members, they foster current customer relationships by ensuring original commitments to clients are fulfilled. Applicants should come with a thorough understanding of sales and excellent communication skills.
Specialty Services
Our specialty services department is up for anything. Whether they are inspecting a home for termites, performing heat remediation in a hotel, or securing bird netting on a business, this team of highly trained individuals gets the job done right. The first time. Applicants should be committed, reliable, and organized. Previous experience in construction, termite, or pest control desired.
Office and Administrative
Join the hub of the Advanced IPM family! Our office and administrative team members are fun, hard-working professionals who value every detail. Their daily contributions to our customers and culture are essential to our success and are regularly recognized and celebrated. Be a part of the team that drives it all. Applicants should be efficient, friendly, and team-oriented.