Blog
»
Lawn Painting In High Demand This Drought Season
Posted on May the 29th, 2015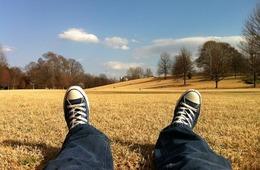 With severe drought conditions in the west coast, several local government agencies are cracking down on water conservation when it comes to lawn care. In the city of Sacramento, homeowners are only allowed to water 2 days per week for a short period. Similar measures have been taken in other Northern California and Northern Nevada cities including Concord, San Jose, and Sparks. For home and business owners who enjoy their landscapes green, this has been a difficult and frustrating time.
Luckily, there are several measures that can be taken to extend the life of your landscape with limited water. One method that has been in high demand this year is lawn painting. Golf courses and sports stadiums have been using this method for a long time, but in recent years many home and business owners have caught on to the trend as well. Using specially formulated grass paint, Advanced IPM can paint your yellowing grass until it looks green and fresh once again.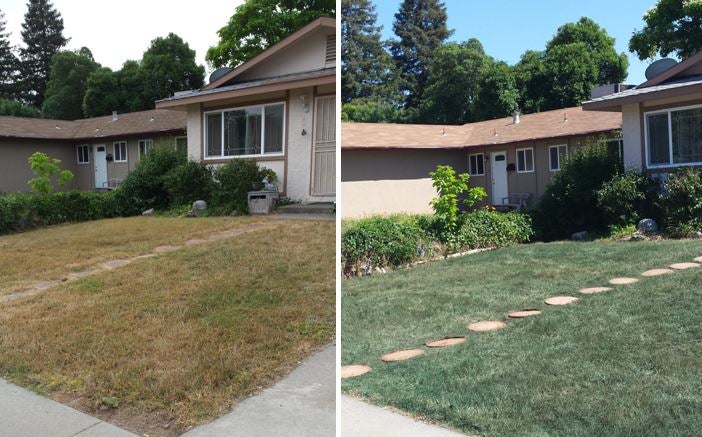 You can even customize your lawn to your liking! Pigment changes can be made to match surrounding greenery, or patch up a specific area that shows yellowing. The before and after photo above shows a recent lawn painted by Advanced Integrated Pest Management. There are many benefits to this method of lawn maintenance, including but not limited to:

• Time Saved: A standard front yard can be completed in as little as 20 minutes, making this solution as quick as it is effective.
• Longevity: Depending on how often the grass is cut, grass can remain green up to 6 or even 8 weeks.
• Cost Effective: Painting your lawn is much more cost effective than re-landscaping with drought tolerant plants.
• Low maintenance: A painted lawn does not need any special treatment, in fact it will not need to be watered much if at all.
• Attractive: A lawn that has been professionally painted can look so good your neighbors will be turning their heads.
• Conservation: One of the best benefits of this method is the water you will be saving during this difficult drought. The best part is, you do not have to sacrifice the beauty of a green lawn!
Interesting in greening up your property? Give us a call today at 800-655-3993 or send us a message for more information and a free quote.