Blog
»
Blog Articles
»
Are Rats, Mice, and Squirrels Eating Your Car???
Posted on August the 30th, 2013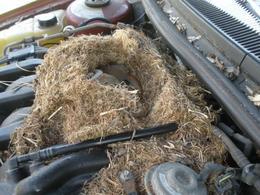 Sound strange? Well it's not. As a matter of fact, a growing concern in the automotive industry, and to individual car owners, is the problem of rats, mice, and squirrels eating and destroying the components of car engines. The ever-growing concern and attention being paid to environmental issues has led car part manufacturers to begin using soy based wiring insulation. This insulation breaks down faster in landfills and is therefore more Eco-Friendly. However, it is also a tasty snack for rodents. It is not uncommon for them to use this insulation to help them build nests within the engines air intake systems. If you find that the next time you go out to your car and turn the key, and the engine does not come to life, you may not have a dead battery, but chewed through wiring and a new resident living under the hood.
If this happens to you, Advanced Integrated Pest Management can help. We have helped car owners and auto dealerships in Northern California and Northern Nevada with rat, mice, and squirrel abatement from car engines for years. Advanced Integrated Pest Management offers free inspections and free estimates to help you rid your engine of these pests.
Once Advanced IPM has helped rid your engine of these unwanted guests it's important to find the root cause of the problem. Where did these rats, mice, and squirrels come from? How did they access your garage, and where else may they be living in your home? Advanced IPM offers solutions to these problems that make sense. It's not difficult to throw harmful poisons or various traps at rodent and squirrel problems - but it won't provide a long-term solution. We work hard to determine the root of the issue. We will provide comprehensive programs to exclude, modify, and combat your unique rodent or squirrel problem. Click here for a free inspection and estimate from Advanced IPM today.